We hope you love the products we recommend. We may collect a commission if you purchase through one of our links. This doesn't cost you anything extra. If you do, thank you! As an Amazon Associate, I earn from qualifying purchases.
In the DJ community, having access to unreleased music is somewhat of a status symbol. Basically, it's a power move. It is possible to get unreleased music through DJ record pools, Promo tracks from labels and PR companies, or DJ and Producer friends. 
What Is Unreleased Music?
First off, let's define what the heck unreleased music is. Unreleased music refers to a track or song an artist has created but has not officially released for purchase/streaming yet. 
Are you always the person at the DJ booth asking "Track ID?" with a hopeful face? Hearing an unreleased song from your favorite artist that you've not seen officially released is a difficult moment for most up-and-coming DJs desperate to get their hands on the track!
Having unreleased material or edited/remixed music on your USB is the holy grail of DJing and can elevate your set. 
So how can you acquire these musical golden nuggets? 
What Do I Need To Download Or Access Unreleased Music? 
All you need to do is research the style of music that you would like to access, find the best sites to download that genre and utilize social media. 
I recommend Instagram, Twitter, Soundcloud, Reddit, and TikTok. It is emerging as an effective way to connect with other artists. 
The most crucial part of getting a steady stream of new music is to immerse yourself in that scene. The music community, especially the DJ community, can be super exclusive, so knowing your stuff goes a long way. 
It's important to understand the style of music you enjoy listening to or playing and create quality demo mixes. Spend some time mixing some awesome sets, and your portfolio will speak for itself. 
It's always a good idea to send samples of your work when reaching out to other DJs, producers, labels, and musicians. 
PRO TIPS For Getting Unreleased Music And Tracks 
First, if you haven't already, join a record pool/ record share community. DJs and producers will post entire EPs, albums, and sometimes early release certain tracks for promotion purposes.
Examples of record pools include ZipDJ, DJ City, Direct Music Service, Digital Music Pool, Beatport Link, Promo Only, CD Pool, BPM Supreme, Crate Connect, and Club Killers.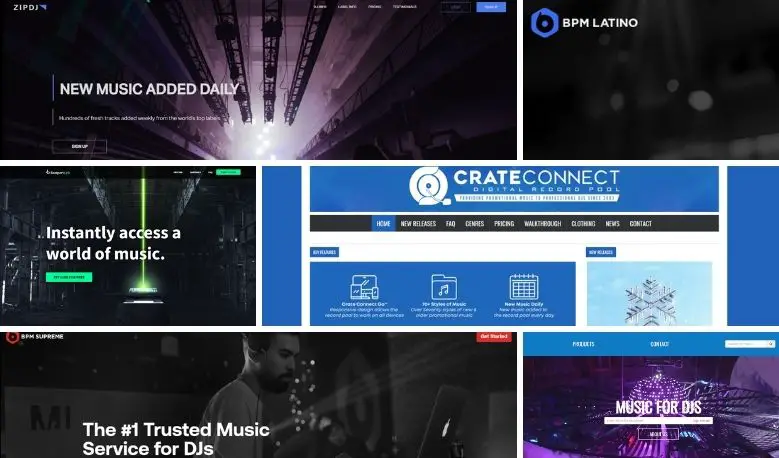 Joining a record-share community has multiple benefits: access to unreleased music and filter functions to find related tunes and songs similar to your tastes. 
Record pools are often super cost-effective as well. 
Reach Out To Record Labels
Second, do some social media reconnaissance and follow your favorite record labels. Even better, the smaller record labels that THEY follow. 
Smaller labels will need to get more exposure for their tracks, and the best way for them to do that is to circulate their music. They usually have promo lists of select people they will send their unreleased recordings to. 
Reach out to smaller record labels with one of your mixes and express that you would like to get on a promo list! The worst that can happen is they say no. 
Tag the producers/artists/labels if you share on social media whenever you record a mix. This is a great way to get noticed by the label or the artists themselves. 
If you do this consistently, you will cultivate an online presence with a degree of authority, and the labels may begin reaching out to you. 
Soundcloud is another excellent resource to meet smaller artists and begin a friendship with them. Comment, share, repost, and become active with an artist that you like. 
Reach Out To PR Companies
Some larger record labels work with publicity companies to help circulate their promotional tracks. It would be good to get on one of their promotional lists, so you have nothing to lose by reaching out to them.
Become Friends With DJs/Producers
Perhaps the easiest way to get unreleased music is directly from your DJ/producer friends. I have some tracks from a friend who sent me their music via Dropbox to include in one of my mixes. 
If you have some established DJ friends and producers, reach out to them. If you don't have any, it's time to make some! 
It's not as hard as you might think. Producers need their music to be played and circulated, so it works both ways. 
If you access their music before it is released and play it, it might not be the best ethically. Still, if you purchase the track in good faith after being released officially, you should be alright. 
Go To Your Local Nightspots
Figure out where the best local spots are in your area for your favorite style of music, and start frequenting those spots. 
For example, I recently moved to London, and I am very much into Minimal Techno/ Micro-House. I did some Instagram research and found the record labels in this area that produce this type of music. 
Luckily for me, there's a bigger Minimal scene here than there is in New York. However, I like intimate settings where I might be able to meet the DJ and key individuals. 
I found a bar in East London that fits the bill, and it's small enough that you can make casual conversation with whoever is spinning. Their equipment setup is insanely professional and fully analog. 
Chances are, most of the people that frequent these places have some experience mixing and have artists or producers in their networks. 
Related Questions
How to start collecting songs? 
You can start collecting songs by purchasing individual tracks or an album directly from artists or streaming platforms such as Spotify, Itunes, and Apple Music. 
I recommend using a site like Soundeo for downloading more professional level and quality DJ and club music. It operates on a subscription basis.
Purchase a USB with a good amount of storage, begin downloading all of the tracks, albums, songs that you like, and back up your library! 
You can download lots of music for free, but it's always cooler to support the artists you like by paying for their art. 
Can you use unreleased tracks in DJ mixes? 
Yes, you can use unreleased tracks in DJ mixes as you create your sound and mix from their work. I would advise you to purchase the track once it becomes released to show support. 
How do DJs get unreleased tracks? 
DJs get unreleased tracks through other DJ friends, record label promo lists, PR companies, and record pools. 
Is unreleased music copyrighted? 
Technically, yes. A track is the intellectual property of whoever created it. It does not need to be officially released to become intellectual property. 
Is having unreleased music illegal? 
What is the difference between leaked and unreleased music?
Unreleased music is work that artists have created and passed on to people. Leaked songs are unreleased music that someone has gotten a hold of and released to the public, usually not through the proper channels.