We hope you love the products we recommend. We may collect a commission if you purchase through one of our links. This doesn't cost you anything extra. If you do, thank you! As an Amazon Associate, I earn from qualifying purchases.
As a DJ in the modern-day, you'll know just how important a piece of equipment your laptop is.
You'll need something that's light and portable enough to be able to take on the road with you, but also something powerful enough to run good DJ software and store all your music and files.
It's a difficult balance to find but it's definitely a worthwhile investment if you're trying to take your music career forward.
Later on in this article, I'll explain what specs you should be looking for when deciding which laptop to buy. But for now, here are the top 3 laptops I recommend for DJs.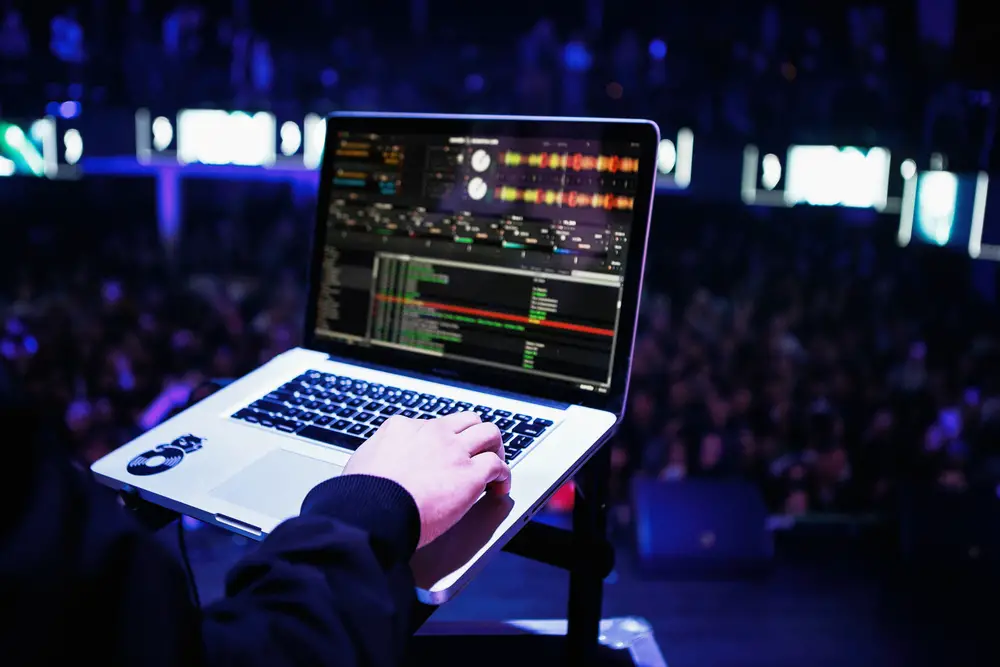 Apple is well-known for its sleek, user-friendly designs and the 2019 MacBook Pro is probably the product that does it best.
The 16-inch screen leaves you with plenty of room to keep multiple windows running at the same time.
Also, you won't have to worry about squinting to see what's going on mid-way through your set. The screen has a high-tech retina display to provide a crystal clear image and uses True Tone technology to automatically adjust the screen settings to display perfectly.
As well as looking great, this laptop comes with plenty of power under the hood. Options are available from 16GB-64GB of RAM, meaning your programs will run smoothly, and up to 8TB SSD storage.
If you're not a computer wizard, don't worry. All you need to know is you'll never run out of space for your files with 8TB of SSD storage.
This really is one of the best laptops out there for DJs. If you want something that's easy to set up and won't cause you any unexpected problems in the middle of a set, the 2019 MacBook Pro is the laptop for you.
Pros:
Retina display and True Tone technology – This screen is specially designed to adjust to different lighting conditions and stay friendly to the human eye
16GB-64GB RAM – Even at the lower end of the scale, all the best DJ softwares will run smoothly on this laptop
512GB-8TB SSD storage – Plenty of space for you to store all your files without having to carry an external hard drive around with you
Intel Core i9 Processor – The processor is the powerhouse behind making the laptop run fast and the Intel Core i9 is one of the best you can get
Cons:
Price – It's not the cheapest laptop on the market but it's definitely one of the best
This is another surprisingly powerful laptop, considering its size. The XPS 13 is less than 15mm thick when closed and only weighs 2.8lbs.
You'd be forgiven for assuming a laptop that small couldn't be powerful enough to run a full DJ set, but you'd be wrong!
This laptop uses the 11th generation Intel Core i7 CPU, which is one the most refined and powerful processors you can get.
There's plenty of choice with the other specs too with options of 16GB or 32GB of RAM available. Whilst this doesn't offer as much maximum RAM as the MacBook Pro, a 16GB minimum is definitely something you should be looking for.
The Dell also offers hard drive space from 512GB-2TB SSD. Again, this isn't as much as the MacBook Pro offers but definitely enough to store thousands of music files.
This laptop is about as powerful as some of the others available at this price point, but the portability of the XPS 13 is what sets it apart from the competition. If you're on tour, traveling from show to show, you'll want a laptop like this that won't weigh you down.
Pros:
16GB-32GB RAM – You won't have any issues waiting for programs to load when you're trying to transition between songs
512GB-2TB SSD storage – Plenty of storage space to keep hold of all your files
Portability – You'll be able to carry this laptop in your bag for any length of tour and you'll hardly know it's there
Cons:
Limited spec options – You'll find some more expensive, but higher spec laptops from some competitors
Navigating around a laptop has never been easier with the Surface 3. This laptop features a 15-inch touchscreen and a super user-friendly interface that allows you to transfer data from other Windows laptops, making the transition from one to the other nice and easy.
The specs it offers aren't as impressive as the other two laptops, but that is reflected in the price, as this is often the cheapest of the three options.
One thing this laptop does have going for it is its durability. You can survive quite a few bumps and scrapes with this device and you won't have to worry about replacing it too soon. Perfect for a traveling DJ!
Pros:
8GB-32GB RAM – Leaves you with some more budget friendly options
Durability – Even if this laptop gets dropped a few times on tour, it'll still do the job for you just fine
11.5 hour battery life – Whatever problems come at you during a set, this battery will keep powering on for you all night long
Cons:
256GB-1TB storage – Depending on how much music you have on file, this laptop might not provide enough space on its own to hold it all
AMD Ryzen 5 Microsoft Surface Edition CPU – Regarded by some as worse than the top Intel Core processors
Frequently Asked Questions
How Much RAM Do I Need For Serato DJ Pro?
The minimum amount of RAM you should have in your laptop to run Serato DJ Pro is 4GB. However, this is absolutely a minimum figure. The more RAM your laptop has, the faster and more smoothly it will be able to run the software. I recommend at least 16GB to ensure a smooth running DJ set without having to worry about loading and stalling.
What Laptop Specs Do I Need For DJing?
In terms of the power of the laptop itself, for a solid DJ set, you should be looking at three minimum specifications::
16GB RAM, which determines how smoothly the laptop will run programs and softwares
Intel Core i7 (or later) CPU, which enables your laptop to interact with all the softwares you want to use and make sure they can all function properly
512GB storage, to be able to store all the music files you might need to deliver a top-tier DJ set
For the less technical parts of the laptop, you should be looking for something with a big screen and a high-quality display, so you can see what you're doing during a show, even in a dark space.
Also, if you're on tour or just traveling with your laptop, you should look for something lightweight and durable so you won't have to worry about it being uncomfortable to carry around or about breaking it.