We hope you love the products we recommend. We may collect a commission if you purchase through one of our links. This doesn't cost you anything extra. If you do, thank you! As an Amazon Associate, I earn from qualifying purchases.
A four-channel DJ Mixer has two additional channels compared to its smaller two-channel sibling. This enables you to be more creative with additional CDJs or turntables connected. However, two-channel mixers are ideal for scratch and beginner DJs looking to simplify things.
The Humble DJ Mixer
From bedroom to touring DJ, you need to know what you're doing with a DJ mixer. They're one of the most essential pieces of equipment in the DJ booth, enabling you to make seamless transitions, build anticipation, and express your creativity.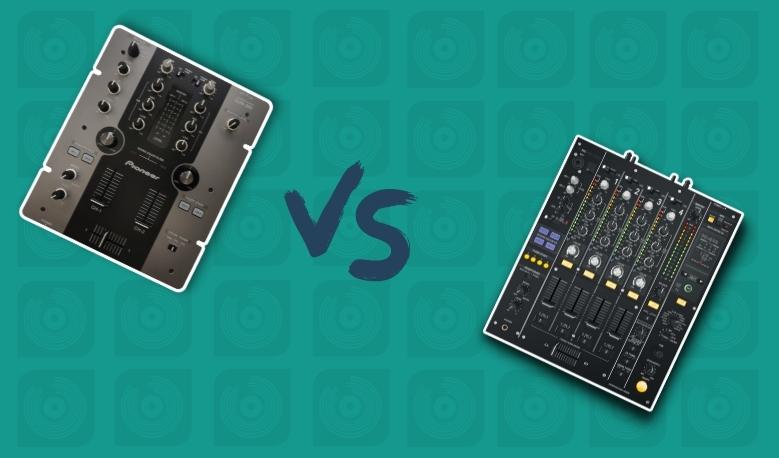 What's The Difference Between 2 Channel And 4 Channel Mixers?
Like the difference between a 2-channel and a 4-channel DJ controller, size and functionality are the obvious differences between a 2-channel and 4-channel mixer. 
The bigger the unit, the more features and functionality you're getting. Don't be fooled into thinking that bigger is always better, though!
Check any scratch or battle DJ setup, and you'll likely find a 30-year-old analog two-channel DJ mixer sitting between their turntables.
However, when it comes to sound color FX, sends, release FX, and all those other creativity tools, you will need the additional power and functionality of a professional mixer.
2 Channel DJ Mixers
Two-channel mixers provide all the essential tools of the trade for a no-fuss, 2-deck setup, and there's an affordable option for every budget.
The most basic form of an analog mixer will have two input channels that can be mixed using either a crossfader or the sliders. They have a main output feed and a socket for DJ headphones enabling you to cue up a track.
As we've moved into the digital age, many two-channel mixers now come with compatibility with DVS (digital vinyl system) and basic sound FX. These digital offerings balance analog inputs that can be connected to a deck or turntable with software midi controls.
Manufacturers such as Native Instruments, Pioneer DJ, and Serato all have two-channel versions that run with compatible DJ software.
If you want a setup geared to fast mixing or scratching, you have everything you need with a two-channel mixer.
House DJs can also develop some lifelong skills on this smaller spec. When you don't have a ton of buttons at the touch of a finger, you must learn how to use your mid, gain, and bass to be creative.
Pros
Affordable
Quality faders & crossfaders
Perfect for battle DJs
Ideal for beginners to learn on
Small footprint for home or mobile setup
A mix of analog and digital features
Ease of setup and use
Cons
Limited inputs
Lacking effects and additional features
No guarantee of mic port
4 Channel Mixers
These professional club mixers offer more I/O ports, giving you more flexibility to add decks and turntables and some level of future-proofing if you feel you'd soon outgrow a classic 2-channel setup.
Pioneer DJ mixers have become the industry standard, with their flagship DJM-900NXS commonplace across Europe. 
With their legendary Xone filter, the Allen & Heath Xone range of mixers is arguably a premium product with more excellent sound. Still, their six channels option and lack of FX may be their downfall when transitioning from a bedroom DJ to a nightclub.
They have a two-channel offering which you can check out here: Allen & Heath 2-channel mixer.
What Does A 4 Channel Mixer Do?
Four-channel mixers are where your creativity and mixing come to life. 
These higher-spec mixers offer various effects such as reverb, echo, phaser, flanger, gate, and delays that can be split across high, mid, and bass, and their timing changed to increase their power.
This added functionality enables you to turn the most monotonous track into a journey of build-ups and drops. You can use your other decks to give the track a new running bassline and an acapella vocal as you've got more hardware connected.
The addition of USB ports allows for recording or streaming via a USB cable to a laptop which is vital for today's DJ.
Why Are 4 Channel Mixers Expensive?
With 4 deck capabilities comes more connectivity and the ability to add a variety of media players. All these extra ports and effects need a more extensive build with more components and therefore come at a high price.
You'll find line-in and phono ports, mic ports with dedicated reverb and gain, booth monitor connectivity, record-out lines, and even the capability to add a pedal and effects loops.
Pros
Future-proofing with I/O and additional ports
Multi FX options
Booth output
1 or 2 mic sockets
Aux sends/returns
1 or 2 headphone sockets
Digital flexibility
Easy to integrate with CDJs and other hardware
Cons
Larger sizes are not always suitable for a home setup
Bulky
Higher price point
You could end up with more than you need
What's The Difference Between A DJ Controller And A Mixer?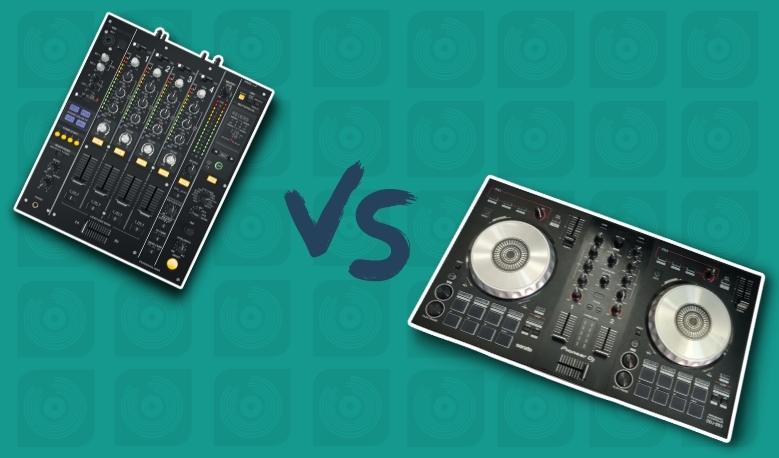 The mixer on your controller is integrated into the unit to mix between the decks on the all-in-one unit. It might have 2 or 4 channels, but you're not going to be able to add more decks or devices.
A standalone mixer is a traditional piece of kit, a hardware unit with input, output, and mixer FX, designed to combine audio from various inputs such as turntables or decks from Pioneer DJ or Denon DJ.
A mixer is a sturdy piece of equipment that can be used as part of a complete kit setup as input/output for your turntables and decks or as an additional element to your DJ controller, acting as software control and an audio interface.
For a more in-depth guide, check out this article for a DJ controller vs a DJ Mixer comparison.
Why Buy A Mixer?
Knowing your way around a standalone mixer takes your mixing skills up a notch. 
You can't always be guaranteed to take your DJ controller or laptop to a gig with you or rely on DJ software such as Serato DJ Pro, Rekordbox DJ, or Traktor Scratch Pro to do your mixing on.
Not every booth will have industry-standard Pioneer DJ equipment, so it's essential to familiarize yourself with the hardware's functionality so that you can take over from the next DJ with seamless mixing.
What Is The Right DJ Mixer For Your Style?
When buying a mixer, the first thing to think about is how many I/O ports (Ins & Outs) you'll need and what you anticipate needing in the future. 
Also, consider how much room you have to offer a standalone mixer.
If it's for home use only, you might have everything you need with a 2-channel DVS (digital vinyl system) compliant model.
If you're a House or Techno pro who needs to take their kit out to gigs, a four-channel will probably be more suited to you.
A word to the wise here, you might be tempted to buy an all-singing, all-dancing (nearly) piece of hardware with far more than you'll ever need. 
I bought a Pioneer DJM2000 because it was cheap. I can call the International Space Station on it, but I probably only use about 30% of its functions!
Whatever your decision, a mixer is an investment that will likely be with you throughout your DJ career. Unless, of course, technology throws us a curveball in years to come but even then, I advise you to keep your mixer somewhere in the back of a cupboard.
Some day, it might give you real kudos.
Now you know the difference between 2 and 4-channel mixers, check out our best DJ mixer guide.