We hope you love the products we recommend. We may collect a commission if you purchase through one of our links. This doesn't cost you anything extra. If you do, thank you! As an Amazon Associate, I earn from qualifying purchases.
Technically speaking, Drum and Bass is considered Electronic Dance Music. But history shows us that through its origins of electronica and various other genres, it has solidified itself as a topic of ever-changing discussion.
In the wide world of music styles and culture, there are often minimal nuances between each. 
Some may argue that one genre of music can envelop an entire society, shaping their behaviors and philosophies. While others see it as a melting pot of ideals, morals, and generally, a coming together of individuals sharing an experience. 
With at least seven sub-genres, Drum and Bass is often at the forefront of these discussions.
What Is EDM – Is Drum And Bass Considered It?
EDM stands for Electronic Dance Music. It was a term coined in the mid-1980s following "electronica." It was used to essentially lump all music of an electronic, rave, or festival nature together.
So naturally, most people would consider a simple "yes" Drum & Bass is considered EDM as the correct answer here.
Technically, that would be correct. However, in recent years, the American and Canadian music market has predominantly pushed the term to rebrand the culture. 
With Drum and Bass originating from the UK thanks to roots in Jamaican sound system culture and UK Garage/2-step, many "heads" (old-school Drum and Bass fans) do not consider it EDM per se.
In this aspect, it is really down to each person's opinion and their era of musical influence. 
Generally, the older the fans are, the more likely they are to stay true to the original ethos of Drum and Bass. Being less about the showmanship and spectacle of, say, the US dance scene and more about the foundations, camaraderie, experience, and sound system culture.
What Is Drum And Bass, And What Are Its Origins?
Wow, where to start here?!
Drum and Bass is somewhat of a bastard child from varied genres, but it is predominantly related to breakbeat. It ranges in tempos and styles and focuses on sub-basslines using sampling and synthesizers. 
Historically its origin is derived from the infamous Amen Break, a 7-second drum beat performed by Gregory Coleman of the band The Winstons from their track "Amen, Brother." 
This single loop spawned the creation of Drum and Bass and Jungle and has been sampled thousands of times in genres across the board.
Since its inception, Drum and Bass has evolved year after year, decade after decade. 
From the gritty drum sampling Jungle days to melodical Liquid Drum and Bass, to half-time Hip Hop inspired beats, to live band anthemic feeling music – right through to technically and sonically experimental levels of sound design with carefully crafted energy that we see a lot more of today thanks to modern technologies.
It is widely renowned as one of our time's most diverse, versatile, and all-encompassing genres. (At least, in my opinion, anyway!)
What BPM Is Drum And Bass?
Being a diverse genre, it can sit well within a fairly broad spectrum of BPM (Beats Per Minute).
Generally, you will see Drum and Bass played at a range from 160bpm up to 180bpm. 
It's important to note here that half-time Drum and Bass (similar in style to Hip Hop) has a related tempo of half the range above – so approx. 80bpm up to 90bpm.
Does EDM Have Its Own Beats Per Minute?
Since the term is so broad, there is no specific BPM for electronic dance music because it covers many genres. Basically, anything made for clubs, raves, festivals, or even electronic parties will fall into this category.
Here are just a few examples of the BPM differences:
DnB (Drum and Bass) 160 – 180bpm
House / Bass House 120 – 130bpm
Techno 120 – 150bpm
Dub/Dubstep 130 – 145bpm
Trance 140 – 160bpm
Glitch Hop/Funk 90 – 110bpm
Moombaton 105 – 115bpm
Trap 120 – 150bpm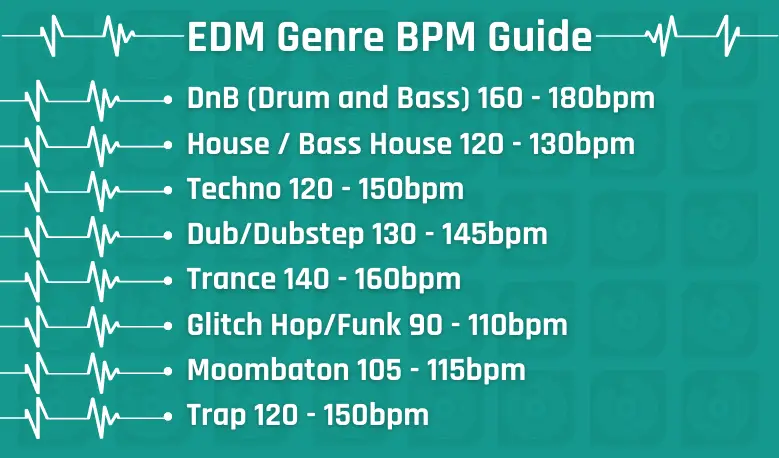 As you can see, there is a lot of room for movement and interpretation within each of these genres. I can assure you that many more subgenres also fit in here!
How Has Drum And Bass Evolved Culturally In Recent Years?
This is one of those "back in my day" questions.
Everybody thinks things were better when they were on the scene, discovering music, partying, networking, etc., and rightly so. They were young and all for it!
But times change, people change, and Drum and Bass culture has continuously shifted from underground to a more commercial audience. 
Like anything that becomes popular with the masses, those "heads" I mentioned will always have some gripes with it.
I come from around the middle of the DnB movement when you would pay decent money on a weekday to go to the best-sounding sound system or club in town. 
They were dark, hazy, sweaty, and, to be honest, filled to the brim with vibes. 
Due to no social media or developed technology to capture your experience, people were simply present in their moment, giving way to a surreal sense of community.
This way of life in the Drum and Bass world was present from the start.
As time went on and with DnB becoming more mainstream, it has brought about some disappointing aspects with it. The likes of which you'll see on most people's Instagram now; constantly filming everything to share to social platforms for clout. 
While it is undoubtedly great to share moments with friends, I can't help but reminisce on times when you shared them with people in the same space as you, that felt the vibe, heard the song for the first time, or saw their favorite artist live.
It's not all bad, though, because it is that very technology that has kickstarted the genre's popularity worldwide and provided artists with platforms to connect with fans in ways they never could before. 
Drum and Bass will never die!
Related Questions
What Countries Is Drum and Bass the Most Popular In?
Since it started in the United Kingdom, this is likely the largest following of Drum and Bass of all styles. It has spread like wildfire to most parts of Europe, with countries like The Netherlands, Germany, and Belgium leaning more toward the heavier side of the genre. 
In recent years China and Japan, among other eastern countries, have started their own movement of half-time DnB, being quite hip-hop oriented.
Over the other side of the globe, the genre has exploded in popularity in New Zealand and Australia. With everything from deep minimal DnB to festival-style summer music. 
This is mainly due to the Australasian summertime falling around the new year, making it a haven for festivals and touring DJs.
Who Are Some of The Largest Artists in The Drum and Bass World?
There are far too many to list, so here are some of my favorites:
– Andy C
– Noisia
– Goldie
– Chase & Status
– Camo and Krooked
– Sub focus 
– Goldie
– The Upbeats
– Netsky
– Mefjus
– DJ Hype
– Alix Perez
– LTJ Bukem
– High Contrast
Is Drum and Bass Hard To Produce?
Due to its technical nature and faster drum style, some people can find it intimidating or even slightly repetitive. But an advanced or enthusiastic listener like myself enjoys the challenge of creating Drum and Bass. 
It can take a lot longer to piece together a track than other genres that don't demand so much critical thinking, but nothing worth it was ever easy!
There is a ton of tutorials and online learning out there now, so it is definitely a lot easier to wrap your head (and your ears) around.
What Are Some Drum And Bass Festivals Worth Checking Out?
– Let It Roll (Czech Republic)
– Outlook (Croatia)
– Northern Bass (New Zealand)
– Shambhala (Canada)
– Electric Forest (USA)
– Boomtown (UK)
– Liquicity Festival (Netherlands)
Final Words
Drum and Bass is widely considered one of the most versatile modern music styles. It encompasses almost all the other genres in some way, giving it a unique ability to appeal to the masses on a global scale not just for its uniqueness; but for how relatable it is. 
It stands for culture and inclusion and attempts to spread positive messages to people from all walks of life.
Whether you consider it EDM or not, Drum and Bass is here to stay, and I, for one, am looking forward to the next chapter.
Check out this next article looking at why DJs turn knobs!