When it comes to building your first DJ set up, there's a whole bunch of essential equipment you'll need to get yourself started.
Luckily, you should be able to do it on a budget, thanks to the growing number of brands that are producing DJ equipment for both bedroom ravers and mobile DJs. 
We've put together a guide to help you figure out what you need to get started on your DJ journey.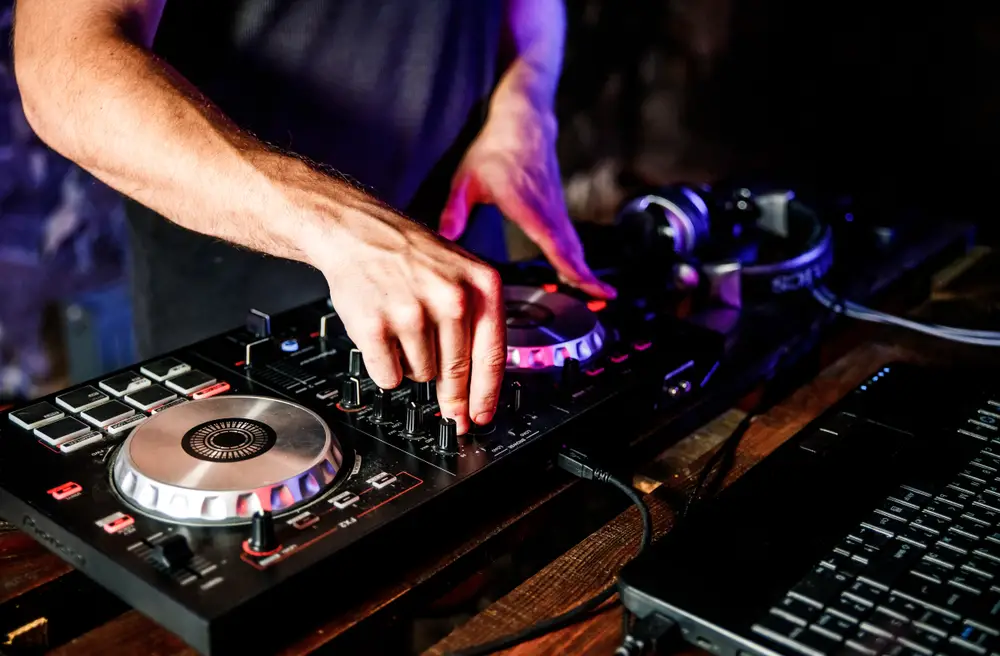 What Are The Different Types Of DJ Setups?
There are several different types of DJ setups that you can choose from. Some of them are more streamlined than others and require far less equipment.
If you want to start off small, you can simply use your laptop, but you'll need to get the right software too. Another simple option includes using a turntable (can be vinyl or CD) and a mixer.
Whilst using a turntable, you can upgrade your software by using a laptop and a DJ interface package will add a bunch of cool effects and options.
If you'd rather use digital music (which is more common today), you can get away with using a small kit that uses a laptop, controller, DJ software and an audio interface.
Equipment
Below you'll find a list of the equipment you'll need, and what they're used for.
In short, the equipment you'll need to DJ is:
DJ Turntables
Mixers
Controllers
Software
Headphones
Speakers
Accessories

DJ Turntables
Owning a turntable is a DJ must. If you're looking to use vinyl or CD – digital music will be covered in Controllers – you'll need to have a set of turntables if you want to DJ.
This piece of gear is essential, especially if you want to scratch or queue singles, so you should definitely consider getting one if you're going old school. If you want to use two turntables at once, you'll need to use a mixer.
Mixers
A mixer is probably the most important part of any DJ set up. They're a form of audio mixing console that allows you to perform different tricks and effects. It also allows you to seamlessly transition between tracks.
Using the slider, you'll be able to scratch, make mashups, pan, control levels and use FX.
You can also connect your headphones, speakers and even hook up your mixer up to your laptop (PC or Mac) for recording and mixing.
Controllers
If you're using an entirely digital setup, then you'll definitely need to get a DJ controller.
These work by combining your turntables and mixers into one singular piece of equipment. DJ controllers are also easily portable, so you can take them to any gigs you have with very little effort.
Whilst using a controller, you'll be able to use your computer software as part of your set up, giving you everything you need for a set – including drum pads, trigger pads, MIDI controls and microphone connections.
Controllers come with built-in jog wheels which allow you to replicate "scratching" with digital audio files. You can also use the trigger pads to import sounds from your computer and you customize the setting from your computer software.
If you're just starting out as a DJ and don't want to carry around a lot of DJ equipment, your best option is to invest in a DJ controller.
Software
Whether you want to kick it old school and use CDs and vinyl, or you want to have a completely digital set up, you're gonna need some sort of decent software that will allow you to operate your controller.
Using software helps you create track mashups, assign sounds to trigger pads, add sound effects, arrange your playlists and so much more. Without any DJ software you won't be able to use your controller properly.
A lot of DJ controllers come with software – or stripped-down versions – of popular DJ softwares to get your started. These will help you learn how to use your controller properly, and you'll be able to start mixing your own tracks pretty quickly.
Some of the best and most recommended softwares out there are Virtual DJ, Serato and Traktor. As noted, most DJ controllers will come with a form of software, so don't worry too much about having to purchase them separately.
If you want more, it's better to upgrade as your controller will most likely come with the best program that works with it. 
Headphones
This might seem basic, but headphones are actually an essential part of DJ equipment as they allow you to hear both decks separately so that you can mix and transition tracks with ease.
Owning a good pair of headphones will give you the opportunity to practice at home before you perform in front of crowds. You'll also be able to produce music without disrupting anyone, giving you the chance to produce and mix just about anywhere.
If you've ever noticed DJs holding one headphone to their ear, it's usually because they're queuing up their next song.
The slider on the mixer can be used to choose which audio output the audience is listening to – DJs listen to what you can't hear on their headphones, which is most likely when they're about to mix a new song or sound. 
Speakers
PA Speakers
If you want to start gigging and performing for people, you'll need a set of PA speakers. You might not always need them, but quite a lot of venues don't have the best sound systems. So it's worth investing in a decent PA system if you're looking to gig.
If you're playing weddings or performing at outdoor events, you'll need a larger set up. If you're just doing house parties, you won't need anything massive.
If you're just creating music at home, you won't need a PA system.
Monitor Speakers
If you're just creating tracks in your bedroom, monitor speakers are your best bet. Of course you can use headphones to mix, but no one will be able to hear you, and they can't replace the electrifying sounds that come from speaker systems.
Luckily, you don't need to spend too much money on getting a decent set of monitor speakers.
Accessories
There are some accessories you might want to invest in that will make your life as a DJ a lot simpler.
If you're exclusively performing in your bedroom, invest in a laptop and controller stand, as it'll keep everything neat and tidy.
If you'll be travelling around with your gear, make sure you get a sturdy case as it'll reduce the chance of your equipment becoming damaged. You can also get custom made cases specifically for your set up.