We hope you love the products we recommend. We may collect a commission if you purchase through one of our links. This doesn't cost you anything extra. If you do, thank you! As an Amazon Associate, I earn from qualifying purchases.
Being a DJ requires you to be dynamic and consistently creative in the ways you can make money. Gigs, Producing, Streaming, Promoting, Event organization, and tutorials are some examples of how you can rake in the cash as a DJ. 
Want To Make Money DJing?
Being an aspiring DJ is an admirable career undertaking. Sharing your music with the world is an undertaking that is more difficult to accomplish than you may initially think. However, there are ways to make your dreams a reality. 
Many DJs have multiple income streams, otherwise known as not putting all of your eggs in one basket. By layering numerous income streams, you can maintain a diverse and dynamic portfolio of projects and cover your expenses. 
Luckily, the music industry provides several ways to earn some money. Some of the most popular and successful ways to make money as a DJ include: gigs, music production, monetized mix streams, social media promotion, event organization, and tutorials.
I'll go into some detail on all of these options so that we can make sure you get to play your music to the world and survive!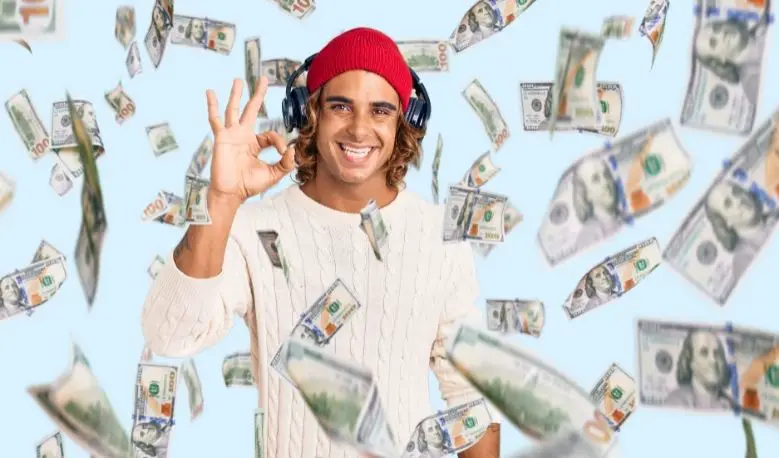 Make Money Gigging 
Gigs are the most straightforward and sought-after jobs for DJs. You simultaneously increase your audience exposure and get practice at your craft. An experienced DJ knows that the most valuable feedback for their performance comes from playing live gigs. 
The most famous DJs in the world can rely solely on income from gigs because they have a huge fan base. DJs on the top level have their travel and expenses paid for in addition to making great money at their shows. 
Of course, the top DJs make up a small percentage of working DJs globally. If you are just starting or don't have a huge fan base quite yet, playing many gigs is an excellent way to grow your audience and make some money doing it. 
There are club DJ gigs, wedding DJ gigs, and more. Small private events can also be a great place to start earning income from DJing. Wedding gigs may pay more than small events, but you may have a more limited selection of the type of music you can play. 
As a beginner DJ, any gig that you can find has the potential to lead you to more and more paid gigs. A house party gig is a common starting point for many DJs. You will most likely need to bring your own DJ controller to a house party.
It's possible that you won't even get paid at first, but house parties are a great way to gain more exposure and increase your audience. 
Earning Money Being A Mobile DJ
If you have your own DJ equipment and speakers, you can make money as a mobile DJ.
Mobile DJing used to be quite tricky since there was much more in terms of equipment you needed to bring with you. You would have needed to have an extensive vinyl collection to be able to play the music that was required for the gig. 
However, these days with USBs and CDJs or all-in-one controllers, it wouldn't necessarily be a considerable investment of time and resources.
Mobile DJing could be a fruitful venture to make some money if you don't mind adhering to a specific type of music during your set. 
However, being a mobile DJ may not be the best route for you if you are particular about the music you play and are not the type to take requests during a set.
Become A Radio DJ To Earn Cash
While it is awesome to get a resident DJ gig at a club, a weekly radio DJ gig is equally spectacular, and let me tell you why.
A radiostation might have a weekly slot that they need to fill, and you could do a recurring mix set on that time slot. 
Not only will you be getting paid at a radio gig, but you will also be increasing the number of people that will be listening to you and creating more and more industry connections.
There is a radio station in Brooklyn called Newtown Radio, and they do a weekly show with Good Company Records to feature their resident DJs. 
Many specific fans of the music and genre you may be playing will always be trying to find additional ways to discover up-and-coming DJs in their preferred style. 
Earning Money With Production And Music Sales 
Music production is another way to bring in some funds. You can self-release music without being signed to a record label. Websites like Bandcamp and Patreon allow you to sell your music directly to fans without delay. 
It is important to note that you also need a fan base to market your new releases. A social media strategy is a good option when planning your releases.
I have some DJ friends who release music on Bandcamp. They always create some buzz for their releases on social media before they drop the record. 
You can also be a ghost producer if you want to make money primarily from producing without notoriety. 
Monetizing DJ Streams
Streaming your mixes is an excellent way to make a couple of extra bucks! This DJ side hustle became popular during the pandemic since everyone was stuck at home, and clubbing became obsolete. 
Mixcloud and Twitch are great options for live streaming your mixes. They allow you to monetize your streams. Mixcloud is awesome because it will enable you to upload your mixes while taking care of all copyright issues for you. 
Social Media Presence And Promoting 
While building up an audience or fan base on social media, it's common for event organizers to reach out to up-and-coming DJs to promote events. 
Event organizers will benefit from your influence if you have an extensive local network of party people and may reach out to you to share a flyer or talk up an event.
You may be paid a commission or simply be put on the guestlist in exchange for this. Either way, it's a good way to be further plugged into the DJ and party community. 
I know people who are given the opportunity to be a promoter by being given a unique ticket link to promote the event. If people purchase tickets through your link, you may be paid a commission. 
In this way, you can become a DJ social media influencer, but this is the way of the future! You could even be a brand ambassador. I think it would be so cool to be a product ambassador for Pioneer DJ or Allen & Heath. 
Content Creation
Piggy-backing off of the social media marketing idea, there is also the opportunity to make some money being a content creator.
There are several ways to do this. A popular one amongst DJs is uploading mix tutorials. YouTube is a perfect place to start a channel and upload content that would be beneficial to other DJs and music appreciators. 
YouTube 
Many DJs have YouTube channels dedicated to mixing tutorials and music-related news and reviews. For example, you could partner with Pioneer DJ to review products and provide a coupon code for products through your channel. 
Blogging 
Maybe you have a unique mixing style or just have excellent music taste. Start a blog! You would be surprised at how many people might be interested in what you have to say.
If you don't like writing, a vlog may suit you better. 
Podcasting
Podcasting is another way to create content and is becoming more and more popular all the time.
Let's say you've got a bunch of DJ friends, and you guys sit around and discuss industry news, products, music releases, and more. I bet you there are people out there who would like to be a fly on the wall for those conversations. You can set up a Patreon for your podcasts, music releases, and reviews. 
Event Organization 
If you are a DJ who has some friends who play similar music, or you just have a very solidified vision of what you think a party vibe should look like, you may want to look into creating your own branded event. 
I want to use the example of the All Day I Dream party. DJ Lee Burridge started this event because he saw a clear need for his style of a dreamy daytime party in the market. 
They bring together many DJs with a similar vibe to create a few hours of dreamy energy. This event has garnered a lot of success throughout the years and allows the DJs behind it to bring in money through playing at the events and ticket sales. Eventually, All Day I Dream became a record label as well. 
Now that the world is opening back up, events are starting to come back. You could organize some smaller events and then who knows; you could end up throwing a festival! It all depends on the vibe you are creating. 
Related Questions
Do you still need a day job while DJing on the side?
It all depends on how much money you need to make to sustain your lifestyle. I know a lot of DJs who have day jobs and their DJ jobs to supplement their income. Many DJs have bartending jobs or some sort of role associated with the nightlife industry to be around the opportunities to get more gigs. 
How do you get the gig over somebody else?
I would say be professional in everything you do. Have a portfolio of your mixes, some social media presence, and always approach the booking managers/ club owners with a professional attitude. Keep it simple and treat it as an interview. You need to be the best person for the job, whatever that gig requires. 
How do you get started DJing in front of people?
Start small with house parties. Try to play in front of as many people as possible and increase your audience. Promote yourself on social media and be consistent in your presence. Take feedback from your house party performances and adjust your sets to what is needed and received best,
Why should I become a DJ instead of something else?
If music is your passion, you bring a unique sound to mixing that others receive well, and if you believe in yourself, you should go for it. What do you have to lose? 
But, how does one go from DJing as a hobby to making it your career?
In my opinion, the only difference between DJing as a hobby to DJing as a career is how you treat it. If you treat it like your job, then it IS your job. If you prefer to do it for fun instead of trying to make a living from it, then it's a hobby. 
Can you monetize DJ mixes, mixtapes, or remixes on youtube?
Yes, you can post mixes on Youtube, but it will take a while before monetizing your channel. You will probably also run into copyrighting issues on Youtube. Alternatively, I recommend uploading and monetizing your mixes on Mixcloud or Twitch. 
Final Thoughts 
Being a DJ is super cool and requires a lot of work; funny how the best things in life usually do!
Whether you have a monetized mix stream, play gigs, produce your own music, organize events, or promote on social media, you need to stay creative and adaptable.
Just attempting any of these routes demands my respect, so hats off to you.