We hope you love the products we recommend. We may collect a commission if you purchase through one of our links. This doesn't cost you anything extra. If you do, thank you! As an Amazon Associate, I earn from qualifying purchases.
One of the more challenging decisions you'll face early on in your DJ career is what DJ software you should use, and with so many on the market, where do you begin? 
Virtual DJ is one of the industry's leading DJ software, that helps artists finetune their mixing skills.
This is the perfect software for any beginner to intermediate DJs as it is one of the easiest software to navigate and offers some of the latest cutting-edge features. 
The latest version of Virtual DJ is compatible with both Windows and Mac operating systems. It is also more advanced than previous versions as it has significantly more features and capabilities.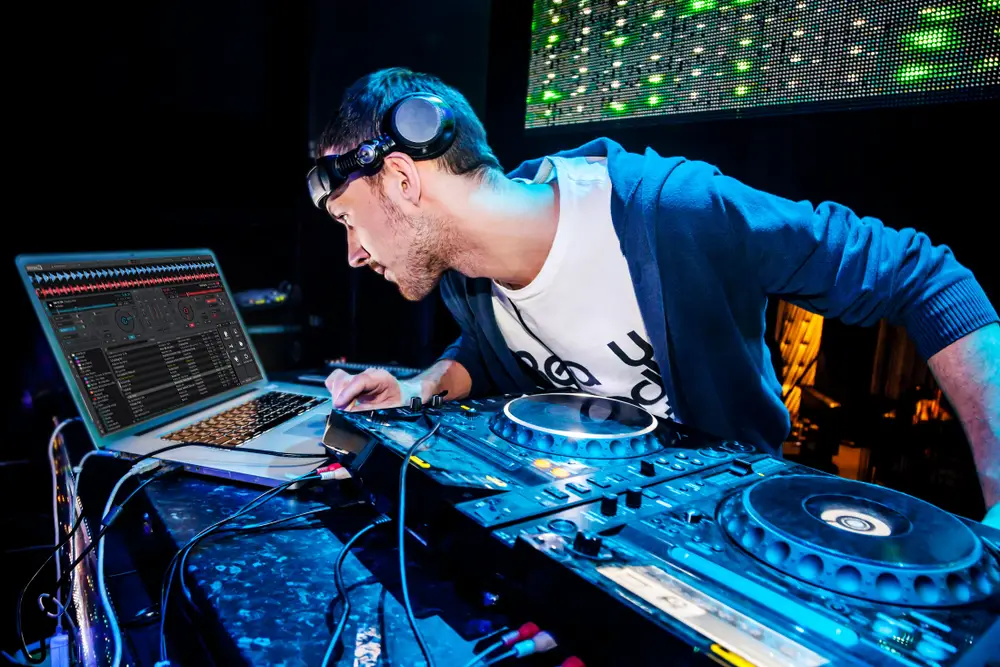 Can Beginners Use Virtual DJ?
As Virtual DJ software automates a lot of the setup, it allows beginners to focus on mixing and creating sets, rather than worrying about the technicalities. Because of this, it's a pretty useful tool for beginners to use. 
One of the best features of this software – which makes it so popular amongst beginners – is that it is free for non-professional use. This means that people who are just starting to build their DJ skills can practice their craft at home without having to pay for the software. 
Word of warning – do not torrent Virtual DJ. You can get the software for FREE on their website, and there's no limit to how long you can use it before you wish to upgrade to the paid version.
A lot of torrent versions of Virtual DJ contain bugs and malware that can damage your PC.  
Virtual DJ Features 
Although it's not as highly regarded as other DJ software such as Serato, Virtual DJ boasts a lot of different features and is compatible with a lot of different DJ controllers. 
It is also fully operational without having any hardware connected. 
Compatibility 
One of the first questions you should consider before purchasing or using a DJ software is whether or not it is compatible with your DJ controller, and any other pieces of your equipment. 
Virtual DJ is compatible with almost all DJ controllers you can get on today's market. You can check whether Virtual DJ is compatible with your hardware by looking at their website. 
Video Mixing 
A feature that really sets Virtual DJ apart from other software, is that it has a video mixing feature.
When you're performing on stage, you'll want to be focused on your mixing and won't have time to think about the videos playing behind you.
With Virtual DJ you can set up the video at the start of your set, and the software will take care of the rest for you. It will flawlessly handle all of the transitions whilst keeping in beat to your set. 
If you don't have any specific videos, you can also use the visualizer, so you will have something playing throughout your set. 
Library Support 
As well as giving you access to a substantial library of music and videos, Virtual DJ also has a great music management system that uses smart folders and playlists. There are a ton of filtering options that can help you find a song you need in seconds. 
This intuitive playlist is perfect for DJs who want to curate their own setlists. 
Karaoke
Although this isn't a crucial feature for many DJs, with Virtual DJ it's possible to create a karaoke playback section that has on-screen lyrics. You can play one song per deck, which allows you to add venues and singer names to the track.
It also automatically saves that information which will help you access tracks quicker in the future. 
You can also show background graphics in between songs as you wait for the next singer to take the stage. 
Sampler And Performance Pads 
Virtual DJ comes with a powerful sampler that includes an unlimited amount of sample slots. You can organize samples through colors, icons, and playback modes.
Also, the range of audio and video samples gives you everything you need to explore functionality options – you also have the option to add your own extensions and samples. 
Take your performance to the next level through the use of performance pads. These allow you to unleash your creativity, and with Virtual DJ there are a number of pad options. These include loop rolls, slicer rolls, and scratch pads. You can also customize pads too. 
Real-Time Stems Separation 
One of the newer features of VirtualDJ is the real-time stems separation feature which helps your computer to easily separate songs whilst you mix.
This allows you to adjust different components of your track in real-time, such as instruments, vocals, kicks, and hi-hats to create new transitions and mashups. 
This feature opens doors to a whole new world of mixing that DJs couldn't access before. 
Limits Of Virtual DJ
Despite the various strengths of Virtual DJ, there are also some limitations.
As Virtual DJ is mostly free software, there is no DJ controller which is made specifically to be used with the software. When a DJ software has a native piece of hardware, it will elevate the quality of your music, and allow you to create better tracks and sets. 
Another setback is that it has poor turntable support. This piece of hardware is what allows DJs to show off their remixing skills. 
It's also worth noting that Virtual DJ is designed for all DJs, regardless of their skill level. However, the software is definitely catered more towards beginner-level DJs.
Although this is great for easy mixing as the software will automatically do most of the work for you, the automation can actually limit you as your skills progress. 
Final Thoughts 
Virtual DJ is an excellent piece of DJ technology for beginners to use. There's a lot of support when it comes to creating easy mixes, which is largely down to a lot of automated features.
However, when your skills begin to advance, you might want to consider upgrading to more advanced software as you'll want to use more complex features. 
All in all, Virtual DJ is the perfect beginner DJ software and the fact that it is mostly free is an added bonus.