We hope you love the products we recommend. We may collect a commission if you purchase through one of our links. This doesn't cost you anything extra. If you do, thank you! As an Amazon Associate, I earn from qualifying purchases.
Rekordbox is a cloud-based DJ software with convenient features for all levels and abilities of a DJ. One of the reasons it's so popular is the range of subscription levels available.
You can sign up for a free subscription to get the basic features or invest in the complete professional setup.
Another source of Rekordbox's popularity is the numerous other music apps compatible with the software. In this article, we'll look at some of the top music apps that you can use with Rekordbox to make your sets draw a crowd!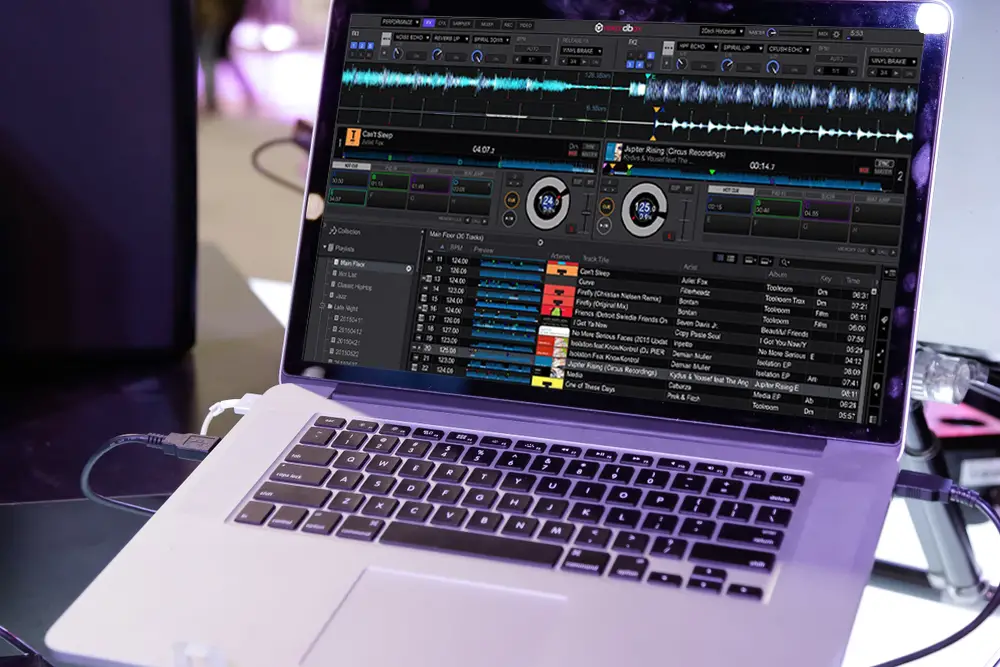 Beatport LINK
This is another subscription software that allows you to choose a price plan that suits you. Whatever you choose, you'll have a massive library of music available for you to work into your set.
It's pretty similar to Spotify because it allows users to access an extensive catalog of music in return for a regular subscription fee.
However, Beatport LINK is different because it's been designed specifically for DJs rather than casual listeners.
You can use the software to listen through previews of thousands of different tracks in various genres and download the ones you like best.
The downloadable file it offers you is compatible with most other DJ software and equipment, including Rekordbox.
One of the best features of Beatport LINK that keeps DJs coming back to it is the ability to store music and use it offline. Some Beatport subscriptions will give you access to Beatport CLOUD, which is where you can keep your purchased songs and re-download them at any time.
This is one of the best music apps for any DJ, as you won't have to worry about relying on a stable internet connection while you're mixing at home or performing a set.
MIXO
This is another useful, versatile app to use with Rekordbox. MIXO is a Mac and iOS app, meaning you can use it on any Apple computer, iPhone, or iPad.
Apple products are used by some of the best DJs in the business, so having something compatible with these devices can be crucial.
Its primary function is as a music storage device similar to most other DJ-friendly music apps. However, MIXO also offers a few unique benefits over its competition.
The fact you can use it on multiple different devices is an instant bonus over apps that are only supported on smartphones.
MIXO will allow you to add cue points into the songs you save, so you won't have to go back and listen through the whole song again just to find where you want to insert a transition.
It also features official, licensed artwork from some of the world's most famous artists, giving your music library an authentic feel.
The level of personalization available on this app is also outstanding. You can create your own playlists of songs, organizing them into different categories and setting up specific playlists to make them into a complete set.
You can even comment on each song, give it a star rating, and highlight the essential details you need to remember for mixing it later.
Of course, this app is fully compatible with Rekordbox and will allow you to transfer your music library over easily.
If you're a DJ who loves Apple products, this app is perfect for you and your Rekordbox collection.
SoundCloud GO+
SoundCloud GO+ might not have been explicitly designed with DJs in mind, but it was created to compete with the likes of Spotify and Apple Music.
The name, SoundCloud, is already pretty well known in the music world, and this subscription-based app lives up to the high standards of the brand name.
While the SoundCloud website is based purely on streaming music via the internet on your device, the SoundCloud GO+ app allows you to download your music library and play it without ads.
This means you can be assembling your next set from anywhere in the world, WiFi or no WiFi!
If you're an established DJ, there's a good chance you've already heard of SoundCloud and maybe even uploaded some of your own music to it. If that sounds like you, then you'll know just how important this brand is to promoting up and coming musicians.
SoundCloud is such a great way to get your music out into the world and allow it to be discovered by new fans or even label producers.
This means that SoundCloud GO+ can help you project your career even further while also supporting other small artists by adding their songs to your library and using them in your set.
Of course, this app is also compatible with Rekordbox, meaning you can copy your SoundCloud GO+ library over to your Rekordbos account to mix and assemble your songs into a set.
The app might not have been designed with DJs in mind, but the SoundCloud brand is such a massive name in the industry, you're sure to find plenty of neat features to fit into your working life.
Final Thoughts
The three apps we've looked at in this article are some of the best-reviewed on the internet and ones we think are the best for any DJ using Rekordbox.
However, there are still thousands of other apps available on the internet. So many of these are also free, meaning you can try each one out and decide whether it works for you.
Not every app will work with Rekorbox, so you must understand the different file types needed to support Rekordbox and make sure they are compatible with whatever app you're using.
In general, it's best to go with a cloud-based app or anyone that saves your music library via the internet through your account. That way, you'll never have to worry about your specially curated library going missing ever again.